At the beginning of May, usually that winter chill is out of the air. I should be happily in a tee shirt right now but instead it's a sweatshirt and my hands are freezing. This made me think of brides searching for their perfect dress and whether it has sleeves!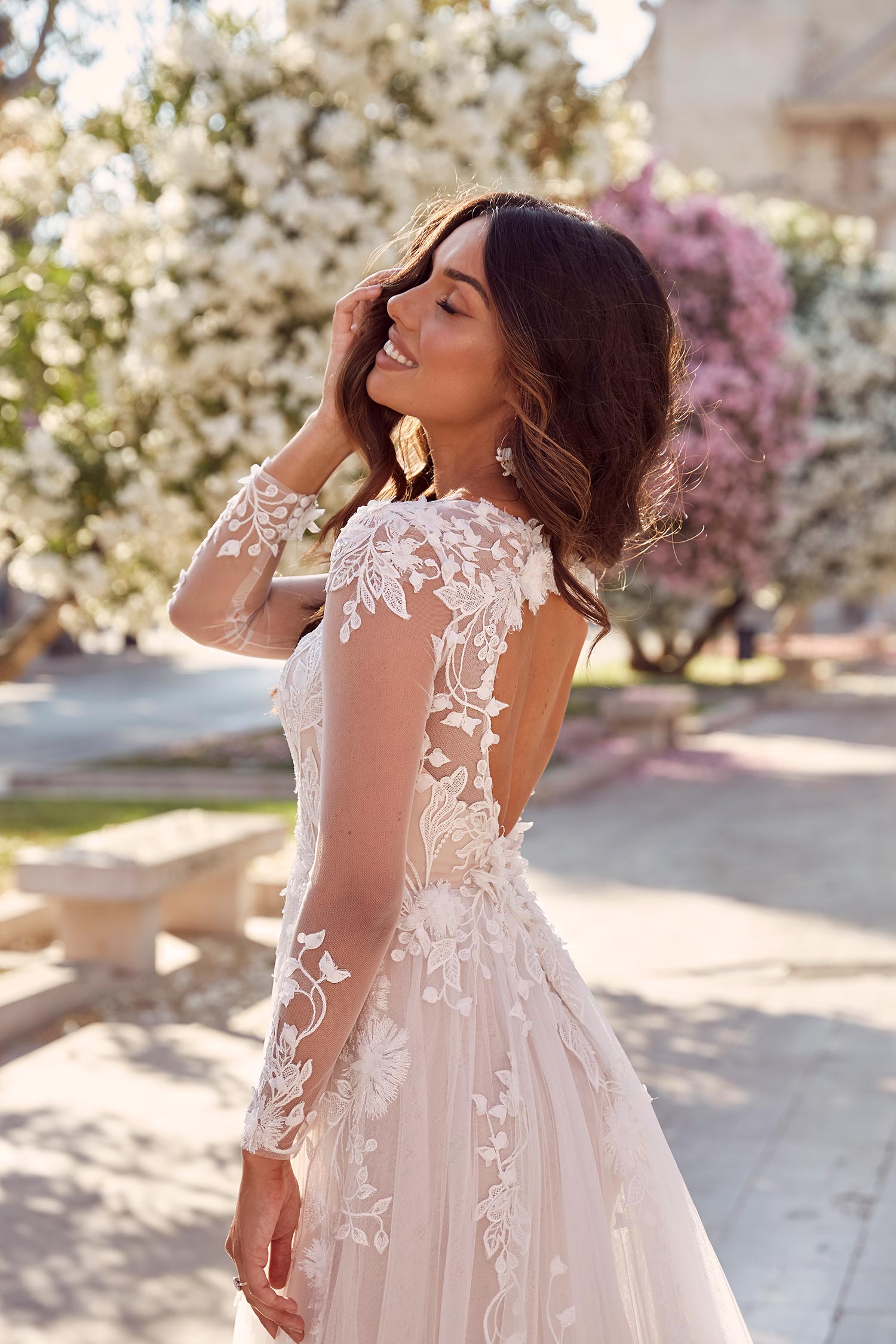 Meadow by Madi Lane
Sleeves on wedding dresses are gorgeous. There are many different versions now, too, like off the shoulder, detachable, illusion, illusion with lace and buttons, full lace, etc.  Look at your Pinterest board – even if you aren't considering sleeves I'll bet you have one pinned.
Trying on dresses with sleeves is very interesting. Some brides know that's what they want and do not try any on without them.
Others think they want them but when they try on they find them restricting of movement, itchy, irritating, or all three, and they move on to others perhaps with a cap sleeve or smaller strap.
Then there is the bride who never considered them who tries on and falls in love! It's one of the "game changers" in dress hunting that we love!
With sleeves you will want to consider:
– Will you be married in the heat? If you are getting married outside in the sun or on the beach, these may not be for you. Think of your ceremony, play that out in your head, does it make sense? You can always try a dress like this, Lennon by Beloved Bridal with removable sleeves:
– Do you have sensitive skin? If a dress bothers you at all during the trying on phase, that is not your dress! This applies to all aspects, not just sleeves. You will be in it for hours, it needs to feel comfortable all around.
– Are you a "throw your hands in the air" type dancer? If so, unless you have detachable sleeves, you wont be throwing them very high. Isabella by Kitty Chen is an absolutely gorgeous show stopper, but you're not going to raise your arms too high in this dress:
– Is your wedding in the winter or a colder location? Sleeves are perfect for you, but they will not keep you "warm". Unless you have a heavier lined sleeve – which further diminishes mobility – you may still need a fur wrap or cape if your ceremony is outdoors or for outside pictures.
For the best of both worlds, ask us for options like detachable on many dresses, or a pretty sheer matching jacket. Or we can have them made by our seamstresses at your fitting if you order the dress you love without them but are still undecided. We have capes, jackets, and fur wraps as well to customize your perfect look! Make your appointment with us here!